ABOUT US
Solid Sentinel was founded by The Capvest Group, a Swiss leading real estate developer based in Geneva, and Sogefonds, a local expert in high-end property developments, with a vision of providing cutting edge real estate projects in Portugal.
From inception in 2014 and through their passion for Portugal, these entities have been investing in the Lisbon area since 2014, with a focus on prime location with the development of four luxury projects, one of which was awarded "Best Redevelopment in Portugal" by the European Property Awards.
A high level of foreign and local investments in the Lisbon real estate market in recent years has contributed to a rapid evolution of the Lisbon urban landscape putting this wonderful city under the international spot lights.
Although our initial focus has been on prime residential properties in the center of Lisbon, we believe that such a buoyant real estate market has put limits on the opportunity for many local families and young professionals to access innovative and quality real estate properties at reasonable prices.
Benefiting from its success, Solid Sentinel has now expanded into larger, more innovative and transforming urban projects outside of Lisbon's center.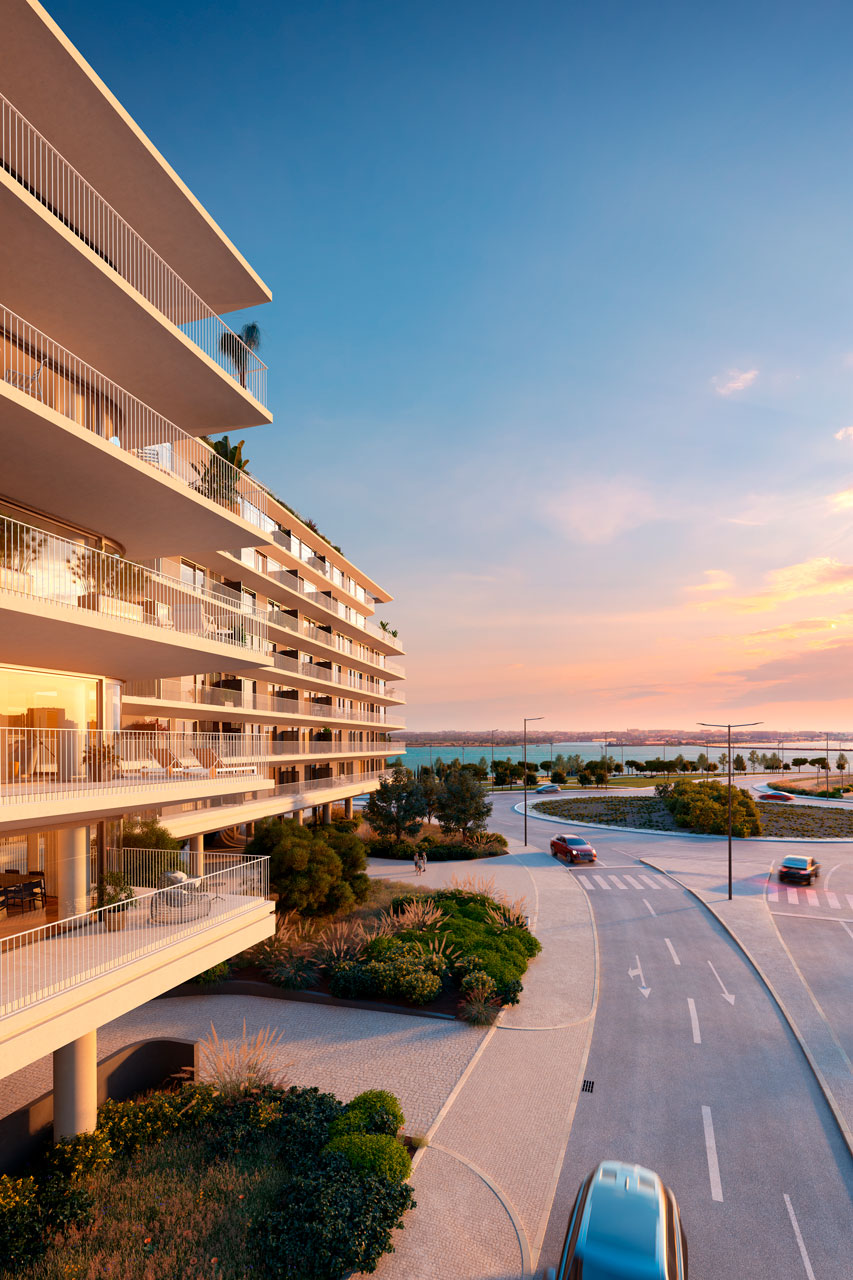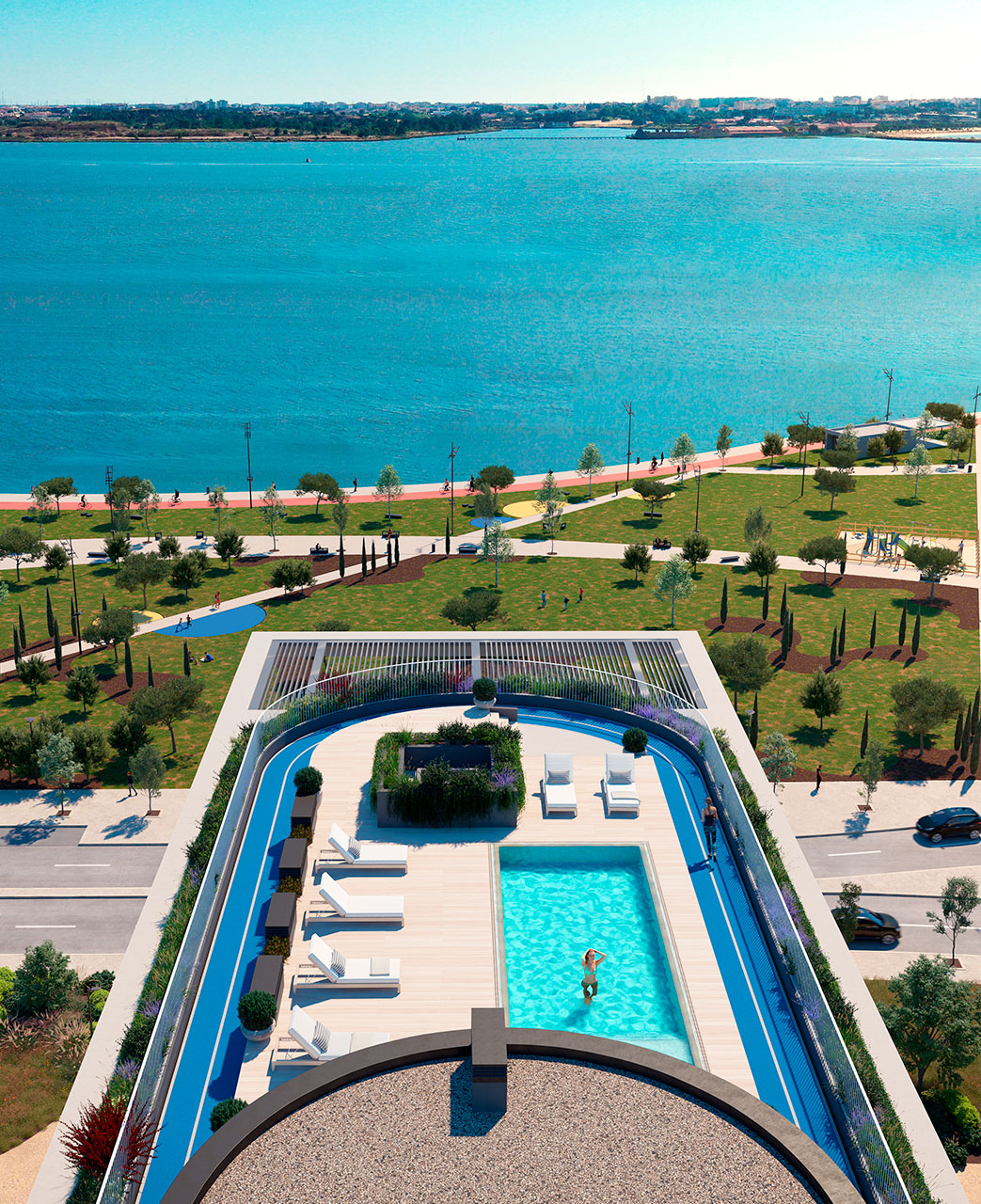 VISION
In the summer of 2020, Solid Sentinel acquired 26 plots of lands uniquely located on the Tagus River in front of the Parque da Cidade (Polis) in Barreiro.
This acquisition is the genesis of a revolution. It is much more than just a real estate project as our ambition is to redefine Barreiro and expand a new breed of high-end residences in the outskirts of Lisbon offering a New Way of Life.
To execute Solid Sentinel's unique vision, we needed a creative architect who understands the impact of architecture on people and the environment. Miguel Saraiva, one of the leading and most creative architects in Portugal, was an obvious choice to materialize such vision.
Our new project will be the birthplace of this fearless vision of a new Barreiro district embracing the river, shaped around a stunning architecture with 518 new apartments – setting a new benchmark within the Lisbon area.
Solid Sentinel and Saraiva & Associados will also bring their common embrace of a greener world with their well-known expertise in developing sustainable real estate projects. The strong presence of passive architecture with various other sustainability elements, such as locally sourced materials, solar panels, will reduce the CO2 footprint of our new project.
Residential units under development in Portugal
Gross floor area of development
Completed development value in Portugal
Development value within the Capvest Group in Switzerland, Canada and Portugal
Develop unique architectural objects for our customers, offering a high quality lifestyle with an organic integration into the urban landscape and local reality.
Create value for all stakeholders and enhance local communities through unique and inspiring architectural objects.
Assume our environmental responsibility through the implementation for each project of strict sustainable goals based on four key pillars : biodiversity impact, energy impact, constructive materials impact, and quality of life impact.
NOOBA – Current Project
Nooba is a development of 518 apartments on the riverside of the Tagus river in Barreiro (Lisbon) offering unobstructed views on a landscaped park and the river, and only 17 minutes away from Praça do Comércio (Commerce Square) in the heart of Lisbon by ferry.
Designed to offer a fresh new living environment to the people of Lisbon and its surroundings, the project will encourage the future buyers to discover the new center of their lives : their families.
The buildings will benefit from an A energy label, intelligent energy management in common areas, systematic consideration of light and natural ventilation to optimize the overall energy efficiency of the building.


69,785 m²
Gross Floor Area
(above ground)

98,360 m²
Total Gross Floor Area

DEVELOPMENT PHASES
PHASE 1
PHASE 2
PHASE 3
PHASE 4
PHASE 5
PHASE 6
Apartments
127
70
126
139
28
28
Gross floor area above ground
18,063 m

²

9,297 m

²

16,685 m

²

18,532 m

²

4,005 m

²

3,202 m

²

Total gross area
25,313 m

²

13,388 m

²

23,660 m

²

25,860 m

²

5,465 m

²

4,677 m

²
TRACK RECORD
Thirteen luxurious and modern apartments, offered in a splendid setting in the city center close to Avenida da Libertad. This former office building has been totally redeveloped to offer a wide range of one to two-bedroom apartments with gardens and two stunning penthouses with amazing sun-drenched roof terrasses. The project was designed by leading Swiss studio, NOMOS.

This project won the prize for the best residential renovation/redevelopment project for Portugal at the European Property Awards (2019-2020).

13 apartments

3,597 m² Total Gross Floor Area
Tasso Apartments is a residential project with eight luxury flats as well as commercial surfaces located in the heart of Lisbon, 200 meters from Marquis de Pombal Square and the prestigious Avenida de la Libertad.

The red and white brick façade is like no other in the city. Inspired by Lisbon's industrial times, the architects have created elegant patterns with bricks that gives a unique personality to the project. The project was designed by leading Swiss studio, NOMOS.

8 apartments + 1 retail space

1,508 m² Total Gross Floor Area
In the heart of Avenidas Novas, Viriato is a development designed by Saraiva+Associados. With its clear, transparent facade and straight lines, the project offers 11 apartments as well as a commercial space ideally located in one of Lisbon's most desired locations.

11 apartments + 1 retail space

2,165 m² Total Gross Floor Area
This project brings together two adjoining building to offer 24 apartments with an outdoor swimming pool. The unique position of the building offers a spectacular view of Castelo St Jorge. The project was designed by Saraiva + Associados.

24 apartments

 3,467 m² Total Gross Floor Area
WORLDWIDE
Le Parc des Crêts is a major residential project located in Geneva, just a few minutes from the city center and set in the heart of a splendid park that occupies 79% of the 8.7 hectares of land.

368 housing units are under construction including 263 apartments, 40 villas and 65 senior housing units.

Sustainability is at the heart of the project with buildings that meet the THPE standard (Very High Energy Performance) standard.

368 apartments

 51,819 m² Total Gross Floor Area

87,616 m² Plot Surface
The QG Sainte-Foy is an innovative vertical village project that combines 110 condominium apartments with a 4'600 m2 medical clinic and pharmacy (Le District Santé), a food market and restaurants (Le District Gourmet), all coupled with a latest-generation office complex.

This project is considered as one of the major projects of the downtown area and the new business hub of Quebec City, which will benefit from the commissioning of the new tramway with a stop located nearby.

110 apartments

 32,000 m² Total Gross Floor Area

6,400 m² Plot Surface

Solid Sentinel Lda.
Rua Carlos Alberto da Mota Pinto
Amoreiras Square, n° 17 – 2° piso
1070-313 Lisboa
Portugal